With Indian Madder, Lemon and Butter Tree Bark
Glow-Giving, Even-Toning, and Complexion Restoring Night-time Facial Massage Oil
Hello, and thank you for all your support, love and likes we are deeply thankful, we take pride in the research we do to share with you.
In this post 46, we are sharing some amazing products not only are fully organic and not animal tested witch is so very important to us, but we also have shared with many people and all of them had absolutely loved it.
The system is ancient and has ingredients that work not only nourishing the skin but the overall health, enjoy and please share so other people can benefit from it also.
with love, gratitude,, and respect.
Isabel and Team i-RAMA.
This post contains affiliate links which may generate revenue for the site when a purchase is made.
A gorgeous brick red elixir, this is indeed an object of fascination, but one which delivers powerful results!
With this oil, a glow is really only a bonus! A beautiful elixir is actually specifically meant for patchy as well as dull and uneven looking skin tone and those who're not very keen to use heavy oils on the face.
If you break out by just the thought of oil on your face, but your heart breaks that you can't use one, you would love to try this elixir!
This oil is not just another face oil.
Based on ancient Ayurvedic principles, this oil works nightly to help ease the appearance of uneven spots, provide a clean and clear look and boost a more youthful look.
The most impressive part?
It makes the face glow as if it was gold!
No – it won't give you the Midas touch and you won't turn golden or anything – but yes. it will give you an instant glow that will be reminiscent of the purity and the irresistible golden sheen of pure gold. A natural, healthy glow comes as an immediate outcome of using this elixir to moisturize your skin.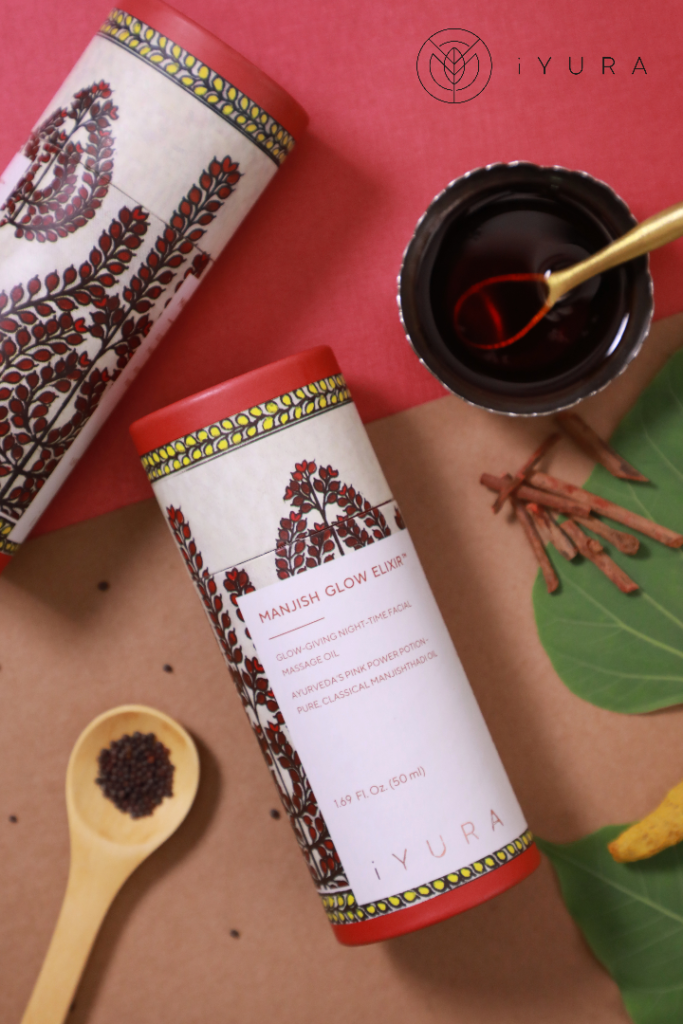 But what is it about this oil that makes it so effective and thus, highly valued?
To learn how it does what it does, let's delve deeper into its color.
Yes, its color.
The wondrous herb that lends this oil its lovely color is called 'Manjishtha' or Indian Madder.
The name of this herb, which is known to be a trustable ally of women, is literally translated into "bright red" and refers to its red roots.
Manjishtha is a common ingredient in Ayurvedic skin care and can be the herb of choice for those seeking a clear, clean look.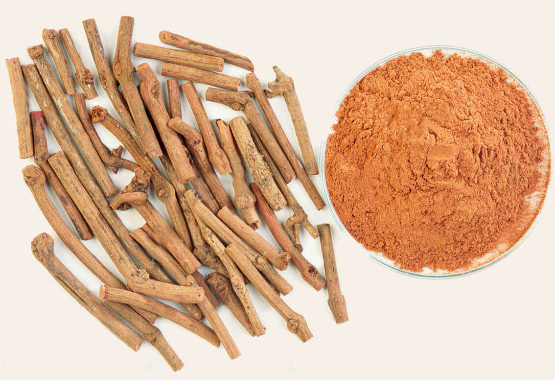 The Secret of the Pink Oil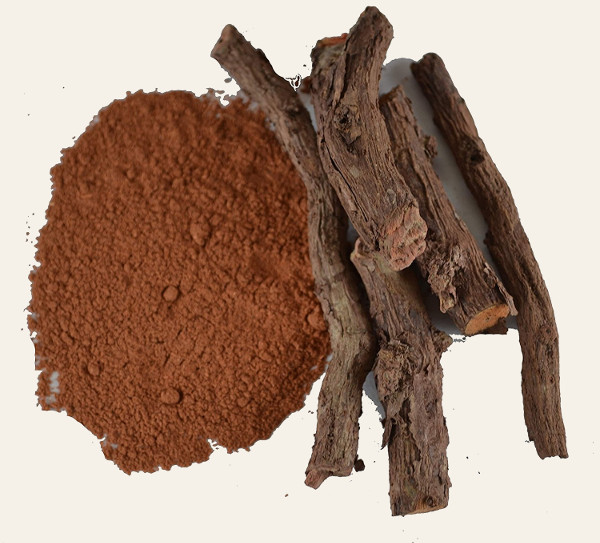 Indian Madder or Manjishtha
A celebrated rejuvenative and complexion enhancer, it helps the skin in balancing the skin's temper-tantrums and uneven skin tone.
It is often added to face-care products to make the complexion even and tone down the appearance of uneven spots to give a relatively more even-looking complexion.
If your skin reminds you of angry, teenage days, Manjistha is like a soothing breeze of maturity and patience which boosts rather than smothers youthful exuberance!
But that's not all. This oil has some more, very interesting ingredients:
Lemon or Jambheer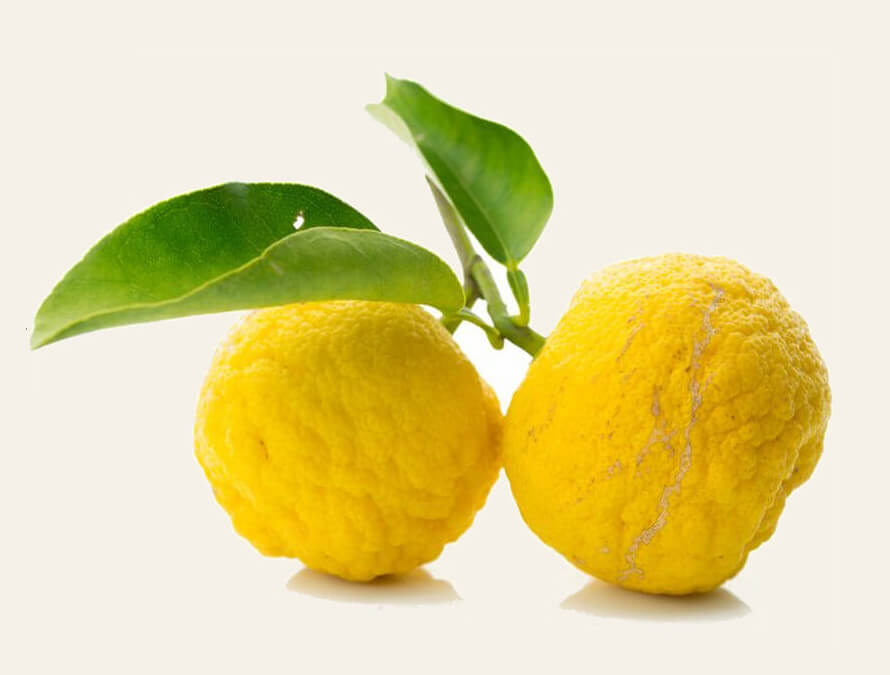 Ayurveda uses this plant in many formulations that are aimed at balancing Pitta (or the element of heat).
As a part of a skin-care oil, it has great benefits as a Pitta-pacifier (as a cooling, balancing, soothing herb). It also brings the clearing benefits of citrus for skin that appears clogged up. It also helps provide a lovely luster to give that glowy look!
Butter Tree Bark or Mahua Bark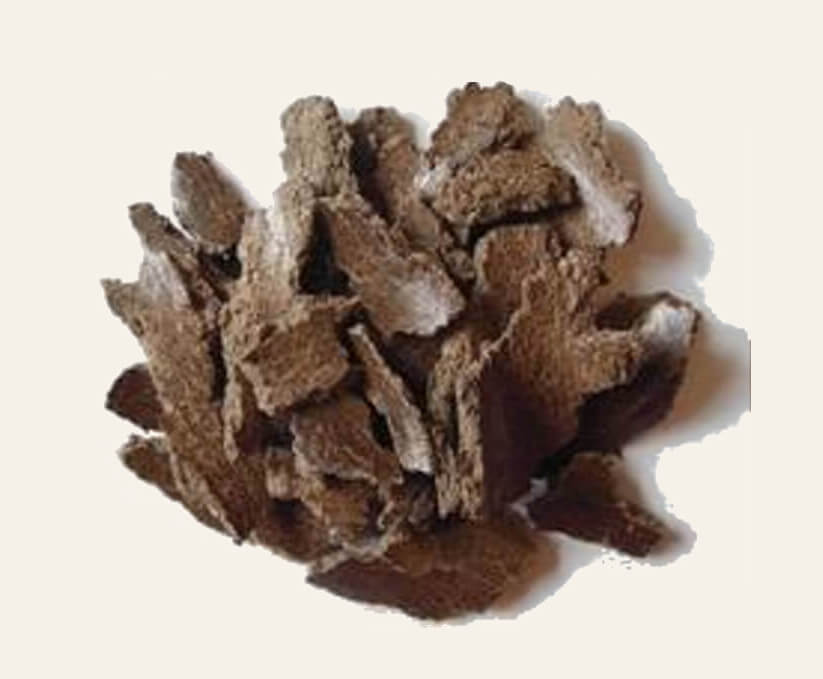 Mahua longifolia is an Indian tropical tree found largely in the central and north Indian plains and forests. Also known as the Butter Tree or Honey Tree, it's locally known as the 'Mahua' tree and is loved by the locals for the numerous benefits it has!
Its seeds are used to obtain a yellow, butter-like liquid used as fat. This butter melts immediately upon contact with the skin. It is believed that Mahua Butter keeps drying of the skin at bay and may tone down the appearance of wrinkles and restores the skin's radiance. BUT, this formulation does not contain this butter – and this is where it gets interesting!
Note and notice this – this ingredient was also used thousands of years ago –
Interestingly, the part of this tree used in our recipe is neither the flowers nor the leaves or the butter from the seeds, this formulation uses the bark instead! This recipe contains Butter Tree Bark, which, as modern research shows, contains 2 active ingredients particularly good for the skin, enabling rejuvenation and a youthful appearance.
Isn't it wonderful how thousands of years ago, when there were no 'lab tests', this choice of using the bark rather than the other parts of the tree was made keeping in mind its unique properties?!
Ingredients: Godugdha – Cow milk, Tila Taila – Sesame oil [Sesamum Indicum], Matulunga – Jambheer – Lemon [Citrus Limon], Manjishtha – Indian Madder [Rubia Cordifolia], Madhuka – Butter tree [Madhuca Indica], Laksha – Lac resin [Laccifer Lacca], Yashtimadhu – Licorice [Glycyrrhiza Glabra]
Quantity: 50 ml (1.69 fl oz)
Always perform a patch test to test for allergies. For external use only. Contains cow milk. Not tested on animals. This oil is not meant to treat, cure, prevent or mitigate any disease.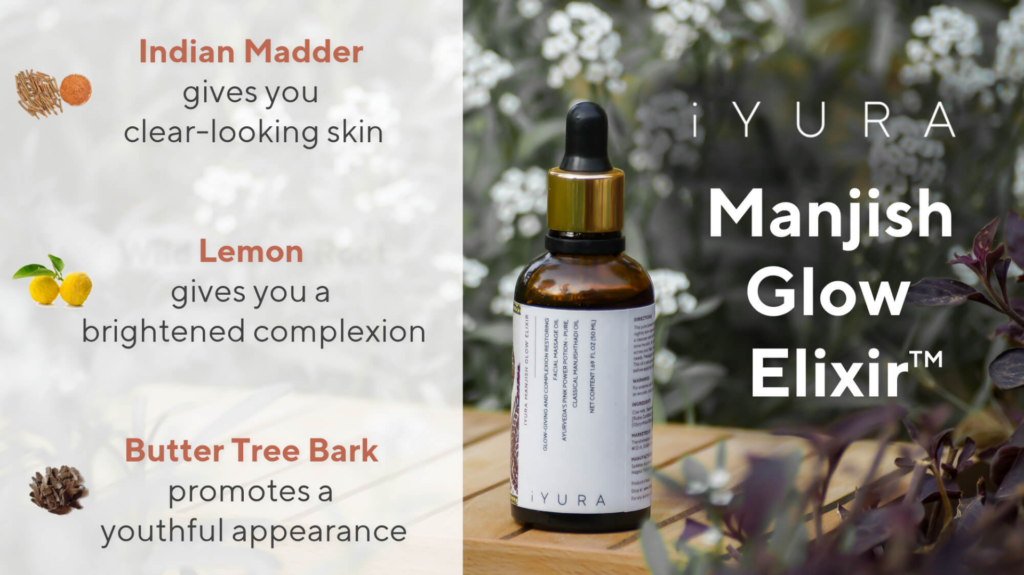 How to use iYURA's Manjish Glow Elixir™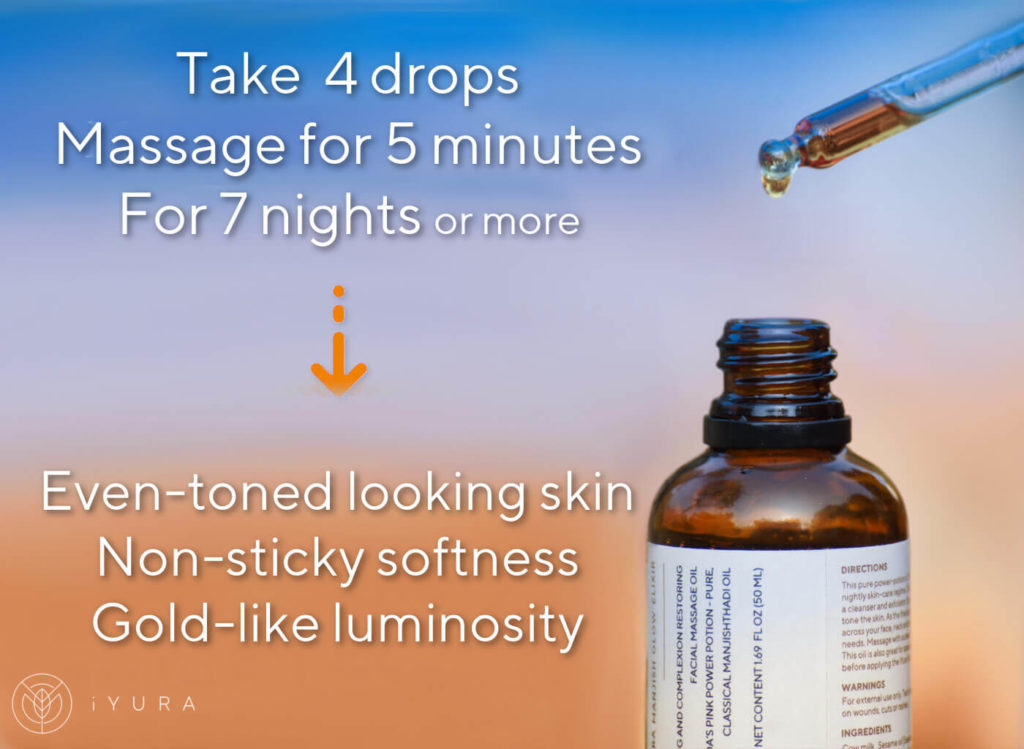 Using 4 drops of Manjish Glow Elixir™ to massage the face for 5 minutes for a minimum of 7 consecutive nights will make you see a noticeable change in your skin!
This pure power-potion or 'Pink Oil' should be used once at night, before going to bed.
Cleanse your face as usual. You can use iYURA Rochis ™, which is a cleanser, exfoliator, and mask.
Spray your favorite toner on your face to tone the skin.
Take 4 drops of Manjish Glow Elixir™ in your palm and gently dab across your face, neck and décolleté.
Take more or fewer drops to suit your moisturization needs. Massage for 5 minutes with outward & upward strokes until it gets completely absorbed in the skin.
Do continuously for 7 nights or more and notice a difference!
Always check the ingredients for allergies and perform a patch test. Results may vary from person to person.
This oil is also great for specialized facial massage and can give excellent results as a massage oil as a part of a facial.
How is Manjish Glow Elixir™ different from other face oils?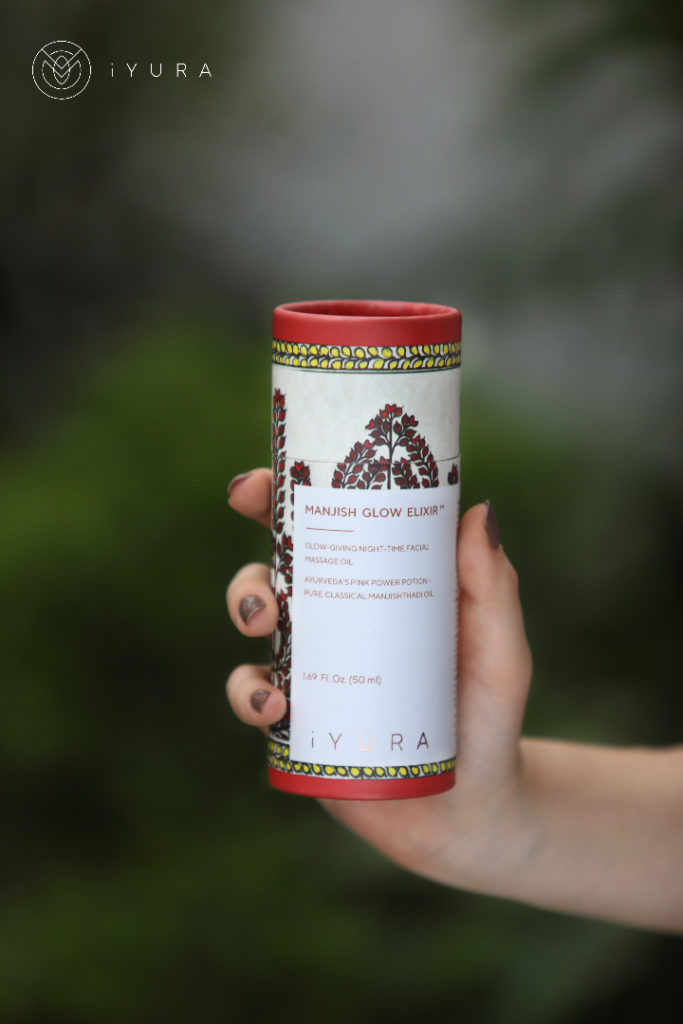 It is not just another face oil that smells like flowers and makes your face feel nice and soft. With no added fragrance, it is based on Ayurvedic principles that date back hundreds of years!
This oil is a very potent concoction of exotic herbs meticulously cooked by following the Ayurvedic procedures recommended in ancient Ayurvedic texts – not a simplistic combination of essential oils and base oil.
Manjish Glow Elixir™ is a unique oil which uses the strength of 5 powerful herbs which are not easily available here in the West, that work in different ways to bring out a clear-looking, even complexion.
A pure Ayurvedic formulation only pure Ayurvedic herbs- there's nothing hidden from you. A lot of companies alter formulations by adding ingredients without communicating the same or do not use herbs in the right concentration. With iYURA Classical products, you're assured this will not happen.
This oil is very light, non-sticky and free of any added fragrance. It's the kind of oil which will disappear into your skin but will still give you a sort of softness that's different than what a cream gives!
It works quietly at night as you sleep so you wake up to clear, refreshed skin!
This oil is free of any chemicals, binders, mineral oils, additives, parabens, petroleum, silicone, etc.
Testimonials
I absolutely LOVE this on my face! I use it every night and can't say enough good things about it. Definitely will be ordering again.
– Elaine W. from the United States
I use this every day! My skin feels soft and looks better. I really like this product.
– Rhoda D. from the United States.
Amazing. It is a beautiful product.
– Dawn L. from the United States